Portsmouth, VA Intellectually Disabled Adult Support Care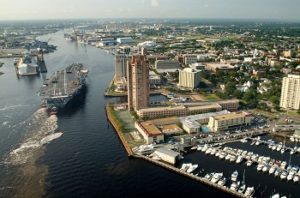 Traditional Care Services provides Sponsored Residential, Community-Based, and In-Home Support for intellectually disabled adults in the Tidewater and Hampton Roads area of Virginia, including the city of Portsmouth.  Our Hampton office is located a very short distance from I-64 and easily accessible to all sections of Portsmouth. TCS is perfectly situated to assist those across Southeast Virginia with any of our adult-care programs.
Directly across the Elizabeth River from Norfolk is the city of Portsmouth. Named for Portsmouth, England, the port city is known for the Norfolk Navy Shipyard which is actually located in Portsmouth rather than Norfolk. The shipyard upgrades, remodels, and repairs ships of the US Navy and is one of the few facilities in the world with the capability to dry dock an aircraft carrier. Portsmouth is one the the seven cities in the Hampton Roads Metropolitan Area that Traditional Care service is proud to provide our programs and services to.
Contact Traditional Care Services
If you are a family member, loved one, or a caseworker looking for a caring environment for an adult individual with intellectual disabilities in the Portsmouth area please don't hesitate to contact us by phone at 757-726-5333, by email tpriester@traditionalcareservices.com, or by filling out our Contact Form. We have offices located in both Hampton and Richmond, VA.