Richmond and Petersburg, VA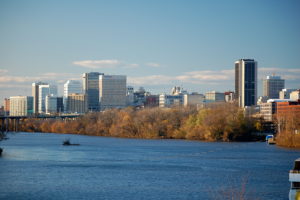 Traditional Care Services provides Sponsored Residential, Community-Based, and In-Home Support for intellectually disabled adults in Southeast Virginia, including the cities and communities of Petersburg and the Greater Richmond Area. With two offices, one in Hampton and one in Richmond, TCS is perfectly situated to assist those across Southeast Virginia with any of our adult-care programs.
The city of Richmond is an area Traditional Care services is very familiar with, and we are proud to provide our programs to the individuals of the area through our Richmond office. The Richmond Metropolitan Area is one of the largest in the state, and the city's economy is driven by law, finance, and government, with federal, state, and local governmental agencies, as well as notable legal and banking firms, located in the downtown area. The city is home to the United States Court of Appeals for the Fourth Circuit as well as Fortune 500 companies and the Federal Reserve Bank of Richmond.
Just to 21 miles south of Richmond is the home of Virginia State University, Petersburg, Virginia. Petersburg is known historically for its role in the American Civil Rights movement of the 1960's, but today it is a small city home to the United States Army's Sustainment Center of Excellence.
Contact Traditional Care Services
If you are a family member, loved one, or a caseworker looking for a caring environment for an adult individual with intellectual disabilities in the Petersburg and Richmond area please don't hesitate to contact us by phone at 804-709-1599, by email hlampley@traditionalcareservices.com, or by filling out our Contact Form. We have offices located in both Richmond and Hampton, VA.